Ayurprabhava - 100g - Natural Body Cream
Rs. 580.00 Rs. 590.00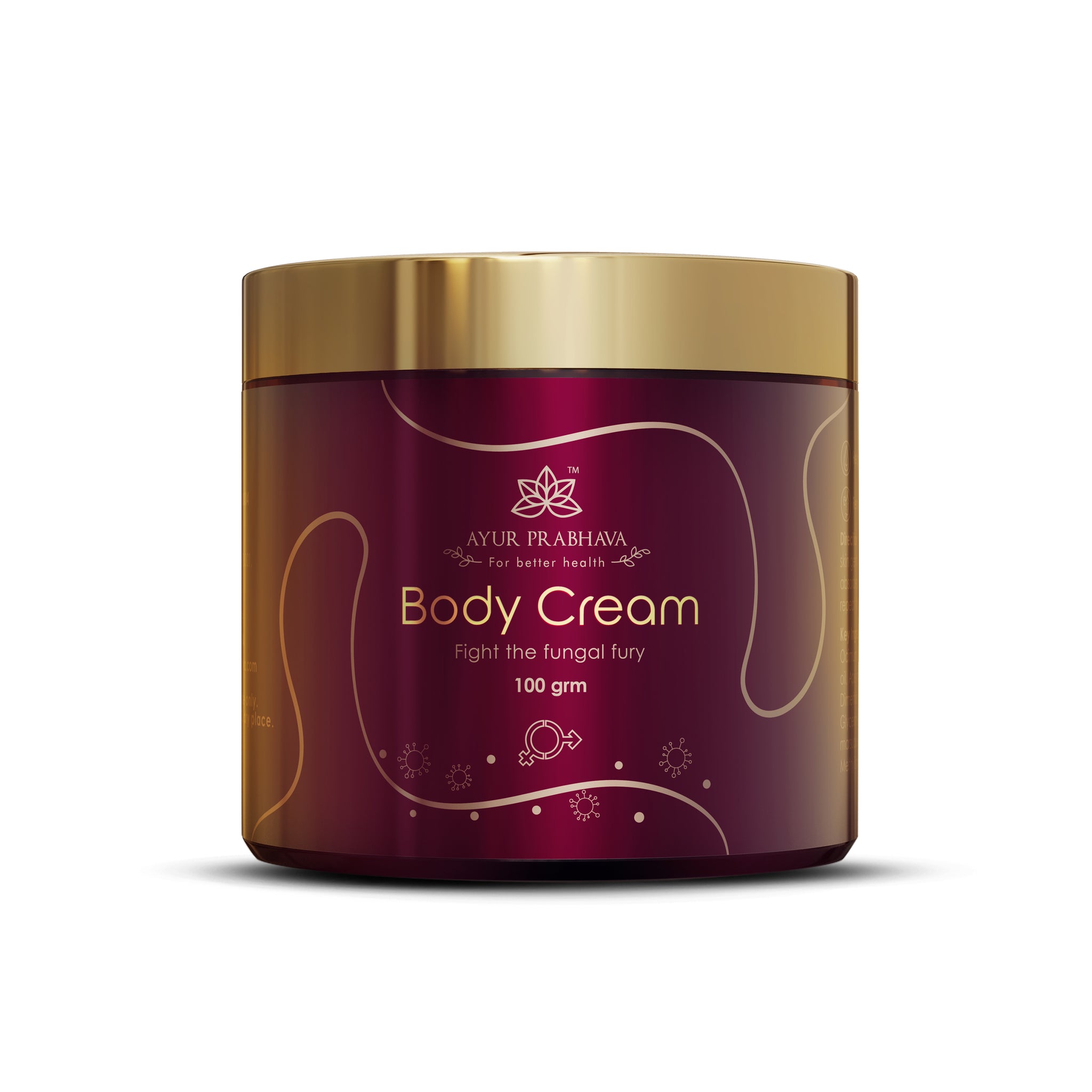 Description
Direction
Benefits
Composition
A single answer for itching due to fungal infections and dry skin. The goodness of pure natural oils blended in the perfect synergy. Best for the cleanliness of the skin including private body parts, moisturizing, and anti-fungal benefits. It helps to eliminate dry skin, rashes, remove dead skin cells, skin infections, inflammations, blemishes, eczema and other skin conditions caused by fungal attack. Enjoy the confidence of healthy and beautiful skin with the help of Ayurprabhava Body Cream.
Rinse the skin with lukewarm salt water or apple cedar vinegar.
Apply the cream to the skin gently with your fingers.
Massage for 10-20 minutes till it is absorbed into the skin.
Best if left overnight.
For best results, repeat the procedure daily for 3 months minimum.
Helps to keep private parts hygienic and fight fungal attacks.
Moisturizes skin.
Helps to treat various skin conditions, including acne, and sunburn.
Anti-ageing and anti-fungal.
Protects skin from free radicals, and to help it maintain youthful elasticity.
Smooths callused skin.
Cleanse skin and prevent blemishes.
The oil acts as a lubricant on the skin surface, which gives the skin a soft and smooth appearance.
Eradicates skin bacteria and removes dead skin cells and excess oil.
Effective in treating inflammatory skin conditions like psoriasis and eczema.
Aqua, Cera alba, Rosa centifolia oil, Stearic Acid, Ocimum basilicum oil, Coconut oil, Aloe vera oil, Glycyrrhiza glabra oil, Apis mellifica oil, Withania somnifera oil, Peg-12 Dimethicone, Dimethicone Crosspolymer, Benincasa hispida oil, Cetyl Alcohol, Glycerine, Alpinia galanga oil, Centella asiatica oil, Pterocarpus marsupium oil, Sodium borate, Cyclopentasiloxane and Methylisothiazolinone.