Ayurprabhava - Glow and Soft Face cream - 100g - For radiant and glowing skin
Rs. 630.00 Rs. 690.00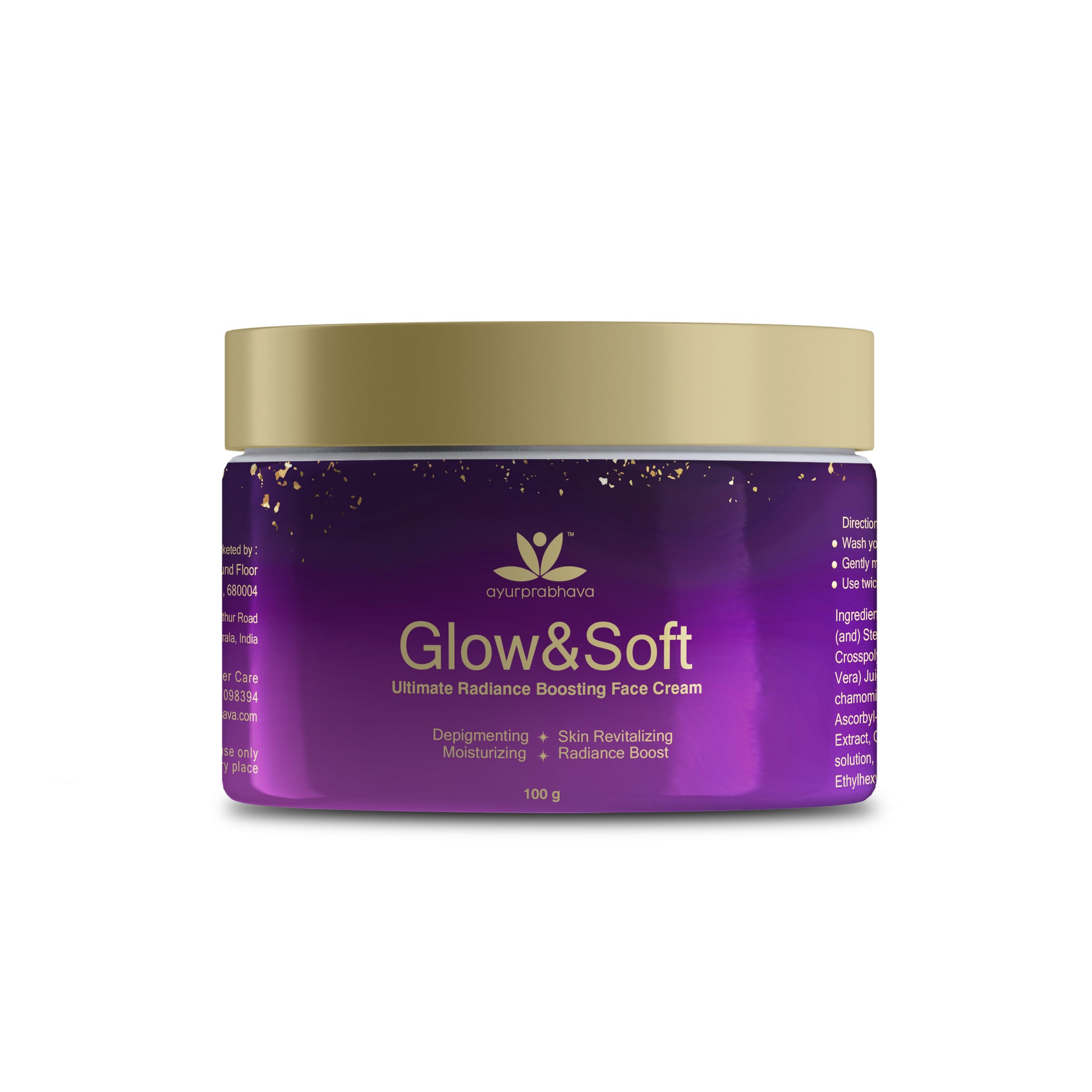 Description
Direction
Benefits
Composition
Everybody wants radiant and flawless skin. But most don't know how. But it is now easy for anyone to have a charming and glowing face. Introducing Ayurprabhava Glow and Soft Face Cream. Made with the combined natural power of Guava, Saxifrage, Chamomile, Aloe vera, and Papaya extracts. Ayurprabhava Glow and Soft Face Cream is rich in Vitamin C, Vitamin A, Antioxidants, Phytonutrients, Papain, Chymopapain, Beta-carotene, Flavonoids, Acemannan, and Anthraquinones. These powerful natural extracts can increase skin radiance, remove wrinkles, hydrate the skin, reduce dark spots and pigmentation by inhibiting melanin production, and provide a youthful appearance to the face.
Wash your face and neck thoroughly with a soap free cleanser.
Gently massage the new Ayurprabhava Glow and Soft Face Cream.
Use twice daily, once in the morning and before bedtime at night.
Improves radiance and the glow of your skin.
Promotes collagen production.
Provides healthy even skin tone.
Removes dead cells from the skin surface.
Rejuvenate and smoothens the skin.
Possesses soothing properties.
Cleanse skin and prevent blemishes.
Aqua, Avobenzone, Octocrylene, Cetearyl Alcohol (and) Steareth-20 (and) Steareth-10, Butylene Glycol, Crosspolymer, Cetyl alcohol, Aloe barbadensis miller (Aloe Vera) Juice, Hydrolyzed Royal Jelly Protein, Matricaria chamomilla (Chamomile) Extract, Psidium (Guava) Extract, Ascorbyl-2 Glucoside, Saxifraga paniculata (Saxifraga) Extract, Carica papaya (Papaya) Extract, Sodium Hydroxide solution, Phenoxyethanol, Fragrance, Citric acid, Ethylhexylglycerin and Ethylenediaminetetraacetic Acid.