Ayurprabhava - 100ml - Danthapala oil for dandruff and skin care
Rs. 520.00 Rs. 580.00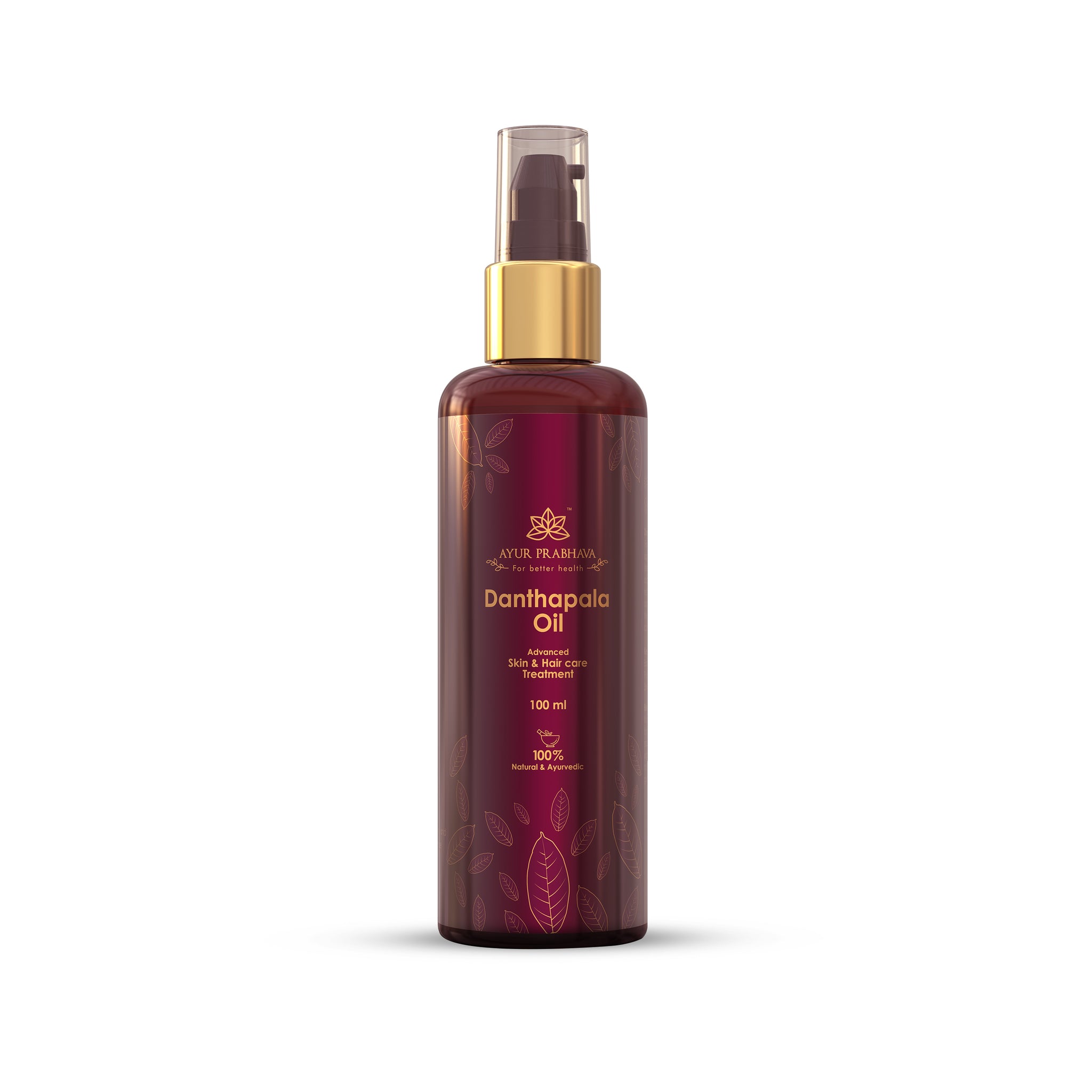 Description
Benefits
Ingredients
Direction
How it is made
Danthapala is a 100% natural product to help fight against dandruff and skin conditions caused by fungal infection. Its ingredients are extracted from deep forests of the Western Ghats 1800 feet above sea level. The unique infusion of Shweta kutaja and pure coconut oil is exposed under sunlight for 21 days causing the resin from Shweta kutaja to mix with coconut oil giving the reddish-brown look.
Being a herbal astringent, it is safe and effective for both skin and scalp conditions. It is used for dermatitis, dermatophyte or fungal infections such as dandruff, scaling and dryness, redness, itching, pigmentation and other skin problems to the extent of psoriasis. It can help eliminate lesions to give smooth glowing skin. It also possesses strong anti-dandruff qualities that reduce hair fall, promote overall hair health together with healthy skin.
Each 100ml is prepared out of:
Coconut oil (Cocos nucifera): 100ml
Shweta kutaja (Wrightia tinctoria): 100gm

For skin and scalp care, Danthapala oil can be applied as normal, left for an hour (best if left overnight) and washed with a chemical-free soap or shampoo. We recommend following this procedure daily for 3 days per week for a minimum of 3 months to clear dandruff. As the condition heals, usage of the oil can be reduced as required. Make sure the usage is only reduced after the condition is fully cured.
A distinct composition of Danthapala leaves is soaked in coconut oil and sun-dried. The extract is then infused into the above composition (sun-dried coconut+Danthapala leaves) to obtain an exceptional blend that treats even the most acute skin conditions.